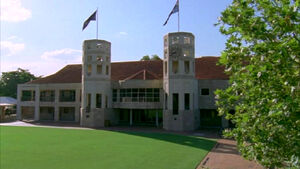 South Coast High School is the school in Australia on the Gold Coast where the four mermaids: Cleo, Emma, Rikki and Bella and their friend Lewis, and most of the other main characters attend.
Second Year
Third Year
Isabella Hartley and Will Benjamin join the school in third year.
Emma Gilbert and Elliot Gilbert leave the school to travel with their family.
Lewis leaves school early to finish his studies in America.
Cleo, Rikki, Bella, and Will graduate.
Faculty Members
Ms. Taylor is the science teacher at the school.
Ms. Scarf is the physical fitness teacher at the school.
Mr. Ham was Cleo's biology teacher in the second season.
Known Students
Trivia
The name of the school in real life is Somerset College.
The school's name appears on Kim's report card on the episode "Missed the Boat."
The school's moto is "Values & Trust."
The same school was used to film Suncoast High scenes for Mako: Island of Secrets.
Gallery