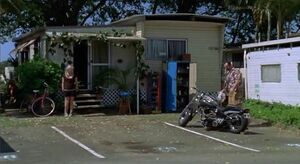 Rikki's House appears twice in H2O: Just Add Water.
It first appears in the episode "Wrong Side of the Tracks" then again in "In Over Our Heads"
Rikki once lived with her father in a trailer park. Since she is now a very successful woman, we can assume that she bought a better house for her father. This house is a bit messy.
Ad blocker interference detected!
Wikia is a free-to-use site that makes money from advertising. We have a modified experience for viewers using ad blockers

Wikia is not accessible if you've made further modifications. Remove the custom ad blocker rule(s) and the page will load as expected.