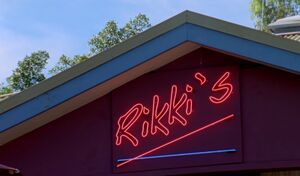 Rikki's Café first appears in Season 3; it used to be known as JuiceNet Café in Season 1 and Season 2.
Zane's father bought the café and Zane took over the business, and then made Rikki a partner in the business. It is not mentioned what happened to Ash and Wilfred who used to run the JuiceNet Café. The café features outdoor seating (the same as the JuiceNet Café), serves juices and features live music from Bella and Nate's Band. Will's older sister, Sophie used to work at Rikki's Café and she served customers their drinks and food until she screwed up a charity concert and got fired. After breaking up with Zane, Rikki no longer works at the café and Sophie took over her work as Zane's partner in the business.
Trivia
The set was located 13km (8 miles) north of the center of Gold Coast at Runaway Bay. Show me on the map
Gallery
Ad blocker interference detected!
Wikia is a free-to-use site that makes money from advertising. We have a modified experience for viewers using ad blockers

Wikia is not accessible if you've made further modifications. Remove the custom ad blocker rule(s) and the page will load as expected.