On This Day is a song featured in the episode "To Have and To Hold Back". This song was performed by Indiana Evans as Bella Hartley. On the show, it seems that Cleo and Rikki are singing it as well, but they're just lip-sinking to Bella's voice. It was written by Jason Bond and Pete Dacy in real life, and probably by Bella on the show. This song is not featured on any soundtrack.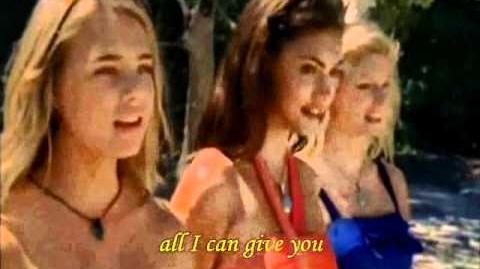 Lyrics
Episode Version
All of my life
And the dreams that we've been thinking
And the truth in your eyes
Shows you love that never dies

And on this day
Love of my best friend
All I can give you
My heart is true
All we are feeling
All that we needed
Hold me forever
Soon we'll be one
Carry us home
Trivia
This along with other minor songs will not be featured on the H2O: Just Add Water Soundtrack.
This is the second time we hear Cleo and Rikki singing, after they sang in The Siren Effect.
Ad blocker interference detected!
Wikia is a free-to-use site that makes money from advertising. We have a modified experience for viewers using ad blockers

Wikia is not accessible if you've made further modifications. Remove the custom ad blocker rule(s) and the page will load as expected.