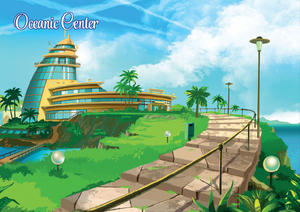 Oceanic Center is a fictional water park in H2O: Mermaid Adventures, equivalent of the Sea World Marine Park from H2O: Just Add Water.
Mr. Lambert is the director of the Oceanic Center. Jeff works there, and Cleo Sertori works as a volunteer. Miriam Kent also interned one time, but she didn't want to do any work, and blackmailed Cleo to work for her, when they released a hurt turtle by accident.
Ad blocker interference detected!
Wikia is a free-to-use site that makes money from advertising. We have a modified experience for viewers using ad blockers

Wikia is not accessible if you've made further modifications. Remove the custom ad blocker rule(s) and the page will load as expected.