Mako: Island of Secrets (international title Mako Mermaids: An H2O Adventure) is the spin-off series of H2O: Just Add Water.
The mermaids are played by Lucy Fry, Ivy Latimer, Amy Ruffle, Isabel Durant, Allie Bertram, and Linda Ngo. Zac Blakely is played by Chai Romruen, Evie McLaren is played by Gemma Forsyth, and Erik is played by Alex Cubis.
Mako Mermaids made its debut in the US, Canada, UK and Ireland on July 26, 2013 on Netflix. Australian television station TV Ten also debuted Mako Mermaids on the same date. In season 2, aired on February 13, 2015 on Netflix, the producer said that the mermaids from H2O: Just Add Water may appear as mermaids claiming that they still have their old tails from the show.
Mako Mermaids series 1 was originally planned as a prequel to H2O: Just Add Water but as season two developed, the creator of the show decided it would actually be a sequel. Rikki Chadwick from "H2O: Just Add Water" appeared in the final two episodes of series three.[1]
Main Characters
Lyla (Lucy Fry): Lyla and her mermaid friends, Nixie and Sirena are guardian mermaids of Mako Island. One full moon, local land boy Zac falls into the magic waters of the Moon Pool. They are banished from Mako and have to get legs and go on land to take away Zac's fishy powers. Lyla develops feelings for Zac, and will be the rebel mermaid. She is the fiery mermaid, and she's very determined and passionate. In Season 2, Lyla has returned to the pod.
Nixie (Ivy Latimer): Nixie and her mermaid friends, Lyla and Sirena are guardian mermaids of Mako Island. One full moon, a local land boy Zac falls into the magic waters of the Moon Pool. The girls are banished from the island, and must get legs to get Zac from part-time fish to full-time human. Nixie is very adventurous and loves playing around and sometimes gets in trouble because she can't stay still. In Season 2, Nixie has returned to the pod.
Sirena (Amy Ruffle): Sirena and her mermaid friends, Lyla and Nixie are guardian mermaids of Mako Island, One full moon, a local land boy Zac falls into the Moon Pool. They are banished from the island and have to go on land to go and get back Zac's merman powers. Sirena provides the moon ring in which gets the girls legs. She is the mediator and peacekeeper between Lyla and Nixie. She's a really beautiful soul and a bit naïve, but that can work to her disadvantage. Sirena has a strong connection to her sister Aquata, who gave her her moon ring. In Season 2, Sirena has returned to her pod, but is forced to return to Mako Island when Mimmi and Ondina go against the council's will to try and remove Zac's powers. In season 3, Sirena vacations with her sister in Hawaii.
Zac Blakely (Chai Romruen): Zac is 16 years old and is the main character of Mako Mermaids. He goes camping on Mako Island, than falls into the Moon Pool which causes him to receive long lost merman powers with a fish-like tail. Zac is sporty and grew up surfing. Zac's powers include the ability to move objects with the mind, and the ability to control water with the mind, as well as expanding it and molding it into a variety of shapes. Zac later finds out he was born as a real merman and finds his true connection to Mako.
Ondina (Isabel Durant): Ondina is a mermaid from the Mako Pod. She's a reckless girl who takes things into her own hands, but is learning to care for others with gentleness.
Mimmi (Allie Bertram): Mimmi is a northern mermaid immigrated to the Gold Coast where she became part of the Mako Pod. She has knowledge of various potions and spells. In "Reunion", she and Zac find out that they are actually long-lost siblings.
Evie McLaren (Gemma Forsyth): Evie is Zac's girlfriend, and feels Zac is hiding something when he frequently pulls away, so she tries to find out whatever he is hiding. She initially breaks up with Zac because he won't reveal what is going on with him and because she thinks Zac is cheating on her with Lyla. Evie finds out Zac is a merman in Episode 25 "Betrayed". They have apparently been dating for 8 months, but have been close to each other since they were six years old. Evie evidently gains a mermaid tail in Season 2 because she comes to the moon pool during a full moon. Her courage and acceptance of her role as a mermaid leads to her initiation into the pod. During her mermaid training in Season 3, Evie loses her tail to the Water Dragon.
Erik (Alex Cubis): Erik is a merman who moves to Mako in Season Two. He befriends the mermaids and Zac, but soon loses most of their trust. Erik shows infatuation to Ondina and they later become a couple. Erik's obsessive curiosity with the Merman Chamber located on Mako eventually leads him to almost destroying all mermaids across the world, resulting in him losing all trust from the mermaids and leaving the Gold Coast.
Cam Mitchell (Dominic Deutscher): Cam is Zac's best friend, and appears to be a lifeguard. He knows about Zac's secret, and knows that Nixie, Sirena, and Lyla are mermaids. He has always been Zac's equal, but things change when Zac becomes a merman. Towards the end of the season, after Zac locked the Trident away again, Cam convinced Nixie to help him reopen the Trident chamber and pull it out yet again. In episode 26, "Decision Time", it is revealed that Cam's real purpose and intent all along was to steal the Trident and gain a merman tail for himself so that he could rule over Mako Island. Although this secret plot changed the nature of Zac and Cam's relationship as best mates, in season 2, Zac and Cam begin to work things out. After becoming a couple with Carly, Cam comes to accept his role as a land dweller and chooses loyalty over power.
Rita Santos (Kerith Atkinson): Rita is the school principal, and also happens to be a mermaid. She has long given up life of the ocean, due to her romantic relationship with her late fiancé Harry, but when three young mermaids appear in her life, she begins to find companionship again with the three.
Carly Morgan (Brooke Nichole Lee): Carly is Evie's best friend and works at the Ocean Café. She attempted construction of a romantic relationship with David, who was uninterested due to the sudden arrival of Sirena. She develops a relationship with Cam and finds out about merpeople in Season 2.
David

 (

Rowan Hills

): David is the boy-next-door—cute, honest, matter-of-fact, and always happy to help out. David works at his dad's café business. His family owns the 

Ocean Café

 and are well liked in the local community. He and Sirena are in a relationship. David finds out about the existence of mermaids in Season 2 and also Sirena being one of them in the season finale.
Overview
*Note* Netflix seasons are different by having season 2 become season 2 & 3, and season 3 becoming season 4.
Season One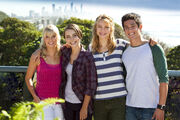 Main article: Season 1 (Mako: Island of Secrets)
Three mermaids, Sirena, Nixie, and Lyla, are assigned with the task of protecting their magical Mako Island from trespassers, only to be thwarted by the arrival of a 16 year old land-dweller Zac – who forms a special connection with the island and is granted a blue fish-like tail and amazing marine powers. Threatened by his existence, the mermaid pod are forced to move away, abandoning Sirena, Nixie, and Lyla, who in a bid for survival, must get legs, venture onto land, and take back Zac's powers or risk being outcasts forever.
Season Two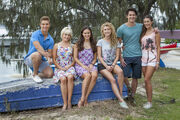 Main article: Season 2 (Mako: Island of Secrets)
Two new mermaids arrive (Allie Bertram and Isabel Durant play new mermaids Mimmi and Ondina, respectively) and are afraid that Zac is a threat to mermaid pods everywhere, but what they don't realize is that there is another merman in addition to Zac in town (Alex Cubis plays Erik) bent on seizing Mako Island for himself.
The mystery of Mako deepens, when Zac discovers the ruins of an ancient Merman Chamber. The entrance to it opens up on a full moon, just like with the Trident Chamber.
This season also sees Zac's girlfriend Evie turn into a mermaid. Cam slowly regains Zac's trust, and by the end, he decides that his desire to be a merman is not worth losing his best friend again. New pairings for season 2 include Erik/Ondina and Cam/Carly.
Season Three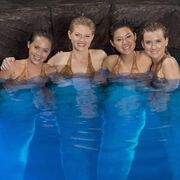 Main article: Season 3 (Mako: Island of Secrets)
Life is trouble-free on Mako Island—until Ondina meets Weilan, a mermaid from Shanghai. They immediately clash and Mimmi must act as peacemaker. But a greater threat to their peace has arrived, in the form of a fearsome Chinese water dragon that once destroyed the Eastern pod. But the dragon is not all it appears to be. On their perilous quest to defeat the dragon that leads to Zac's girlfriend, Evie losing her powers and her tail, Zac and the mermaids discover shocking secrets until a final confrontation reveals all. Cariba Heine reprises her role as H2O: Just Add Water mermaid Rikki Chadwick.
Trivia
This is the second series Lucy Fry has main role that is created by Jonathan M. Shiff. The first was Lightning Point (Alien Surf Girls in U.S.).
Lucy Fry made a cameo in the last episode of H2O: Just Add Water. Her name was announced at the graduation ceremony and she was seen in the crowd.
It is still unknown how natural mermaids got into Mako Island.
The Moon Pool in this series is completely different than the one in H2O: Just Add Water. Rikki Chadwick reveals that the new appearance has been around since she left.
In Australia, the series is known as Mako: Island of Secrets instead of Mako Mermaids.
Every main character in the series has been a mermaid or merman, except for Cam, who did have powers in Decision Time.
A movie will follow season three.
Trailers
Gallery
References
Sources