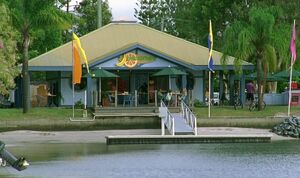 JuiceNet Café (now known as Rikki's Café) is located just off the Marina.
It was a very busy cafe, where everyone went to hang out.
Wilfred owned the JuiceNet Café and was in charge there. Originally, Wilfred appeared to run the cafe alone, but expressed his desire to have more time to surf to Lewis. Emma began working there from that point on, and eventually so did Ash, and Amber along with several other staff.
JuiceNet Café made smoothies of every taste, size, and color. It also served food e.g. burgers, french fries, and various other food. It also served as a public internet place.
It's unknown why JuiceNet Café closed, it's suspected that the business was failing (as mentioned in season 2) or Wilfred closed the business and moved away. Afterwards, Zane bought is as a gift to Rikki and renamed it as Rikki's Café.
Notable Events That Took Place at The JuiceNet
Lewis' wish giving potion went out of control and took over half the café.
Cleo as a Siren put all of the boys into a trance while she sang.
Cleo, Emma, and Rikki found out about the freak storm that they created at Mako Island.
Cleo found Charlotte's secret diary.
Emma found Miriam frozen like an ice cube.
Charlotte showed Lewis and the girls her powers.
Charlotte discovered her grandmother was a pretty mermaid.
Lewis and Nate had a fight and Charlotte used her powers against Nate in public for sweet revenge.
Miriam caused trouble over Rikki's Locket.
Zane and Ash had an unfriendly pool game, while Rikki and Emma used their powers to help their boyfriends win and created another storm over the JuiceNet.
The JuiceNet logo appears on Lewis' computer for a search engine a la Google.
And many more...
Trivia
The set was located 13km (8 miles) north of the center of Gold Coast at Runaway Bay. Show me on the map
Gallery
Ad blocker interference detected!
Wikia is a free-to-use site that makes money from advertising. We have a modified experience for viewers using ad blockers

Wikia is not accessible if you've made further modifications. Remove the custom ad blocker rule(s) and the page will load as expected.