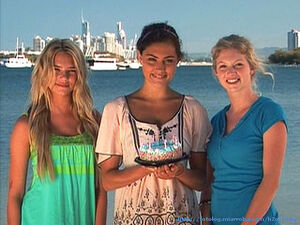 Happy Birthday to You is a song in the H2O: Just Add Water birthday reel in ZDF.
Lyrics
(All look at the cake and face to us.)
Happy birthday to you,
Happy birthday to you,
Happy birthday, dear TV,
Happy birthday to you.
Cleo: Have a very happy tenth birthday.
All: From everyone at H2O!
Trivia
This song was first mentioned by Lewis in Crime and Punishment for Rikki's birthday.
The song was released in the 1893 and was written by Patty and Mildred Hill. It is the most recognized song.
Ad blocker interference detected!
Wikia is a free-to-use site that makes money from advertising. We have a modified experience for viewers using ad blockers

Wikia is not accessible if you've made further modifications. Remove the custom ad blocker rule(s) and the page will load as expected.