H2O - Mermaid Adventures

Created By:

TBA

Produced By:

Les Cartooneurs Associés and Fantasia Animation

Executive Producers:

Denis Olivieri
Nicole Keeb
Arne Lohmann
Jonathan M. Shiff

Story Producer:

TBA

Written by:

Eric-Paul Marais
Delphine Dubos
Franck Soullard

Director:

Tian Xiao Zhang

Starring:

TBA

Official Page:

Airing:

May 22, 2015 (Netflix)
H2O: Mermaid Adventures is a reboot of H2O: Just Add Water in animated form. It deviates from the live action show, such as their ability to talk to the sea creatures, and Gold Coast is renamed Dolphin City. Unlike the live action show this version has no plot correlations to the orginal aside from the mermaids gaining thier powers, and is more episodic in format rather than a recurring story line. It also is aimed towards kids not teenagers. The first season aired on Netflix on May 22nd, 2015. With the second season aring on July 15 of the same year.
Overview
H2O: Mermaid Adventures is a combination of comedy, friendship and adventures, both on land in Dolphin City and in a marvelous and magical undersea world. The brand-new animated series is taking the original concept of the world-hit live-action series to a whole new level. While exploring the mysterious Island of Mako, three quite ordinary teenage girls fall under a spell that changes their lives. From now on, whenever water splashes any one of them, they are transformed into mermaids! Endless situations and missions draw the three friends into the incredible underwater world where they make new friends: Bernie the Hermit Crab, Zita the inquisitive Eel, Teddy the Turtle, Sue the mystical Manta Ray and Carlotta the Jellyfish – and have endless fun and wonderful, enchanting adventures under the sea.

Characters
Main Characters
Secondary Characters
Voice Cast
Sonja Ball
Holly Gauthier-Frankel
Thor Bishopric
Angela Galuppo
Sara Braden
Pauline Little
Danny Brochu
Matthew McKay
Sara Camacho
Robert Naylor
Bruce Dinsmore
Eleanor Noble
Gallery
Trailer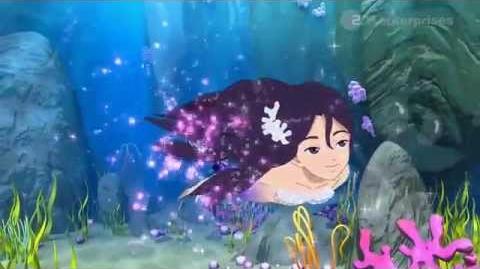 Ad blocker interference detected!
Wikia is a free-to-use site that makes money from advertising. We have a modified experience for viewers using ad blockers

Wikia is not accessible if you've made further modifications. Remove the custom ad blocker rule(s) and the page will load as expected.