Emma-Byron Relationship

Status:

Broken up

First Met:

First Kiss:

Started Dating:

Nickname:
Emma-Byron relationship is the relationship between Emma Gilbert and Byron. This relationship only appears during the first season, due to Byron's disappearance in the second season and Emma moving on to Ash.
In Byron's first appearance, Miriam throws him a pool party. Emma wants to go for him, but cannot due to her newly emerged mermaid powers.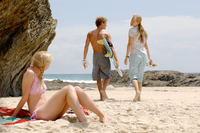 Byron is invited to the Mr. Gilbert's birthday party that Emma throws. However, Emma falls under the full moon spell. Emma calls Byron over to the hot tub, where thankfully he doesn't see her tail through the water. They kiss, until they are interrupted. Later, up in Emma's room, Byron again passes, and Emma comments how she was sorry they were cut off. They begin to kiss again, but again get interrupted. After the full moon sets and Emma becomes herself again, Byron tells her she has "nice lips"-- to which Emma panics and asks what he means.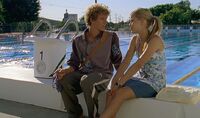 Byron asks Emma to be his swimming coach, and she accepts, although wary of being too close to the water. She helps him train, however their relationship moves past that one of trainer and student when they kiss. They get into an argument over Emma's tough training style, and Emma quits. Upon Rikki's prodding, Byron apologizes and asks Emma to come back. She says she can't after their kiss, that it would be inappropriate. However, she does come to cheer Byron on at his match against Zane.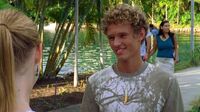 Byron comments to Emma that she is predictable, which causes Emma to freak out. She then has Rikki dye her hair red in an effort to become more spontaneous. However, Byron likes her just the way she is.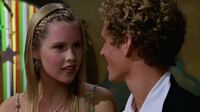 Emma and Byron decide to go the school dance. However, due to Lewis' potion, their time is cut short. Later, Emma bemoans the fact that Byron has probably left the dance already. Lewis says Byron has waited for her, and Emma returns to the dance with him. However, this is the end of Emma and Byron's relationship, as he is never heard from again. Emma begins a relationship with Ash in Season 2.