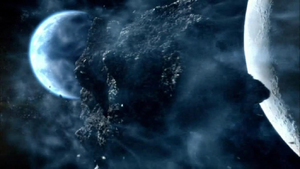 The Comet Eva was named after a woman, Eva in 1790 after it was believed that she saved the Irish people from the comet that was about to hit Earth.
The comet is somehow connected to Mako Island and the Sea Caves of Ireland, they are attracted by magnetism by one another. It is speculated by the mermaids that another comet thousands of years ago, might of actually hit Earth, and formed Mako Island, one of the shards being the Sea Caves of Ireland.
The comet returned in 2010. Cleo, Rikki and Bella, that were in Australia were warned by the Water Tentacle. They researched the comet's history and found that Tower of Light created by mermaids can redirect the comet and save the Earth.

Gallery