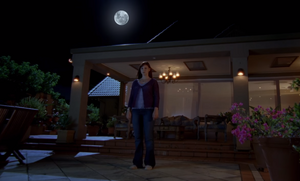 Charlotte's House, is where Charlotte Watsford lives with her mother Annette Watsford in a large house on the banks of the canal, it has a large garden, with a swimming pool and a terrace, where Charlotte talked to her mother about Gracie. It appears that Charlotte's house is next to a river, as a party boat came upstream at Lewis' birthday party.
Charlotte's house only appears in Season 2 and only in a few episodes. Memorable Scenes:
Charlotte throwing Lewis McCartney a surprise birthday party.
Charlotte showing her mother the old film that she stole from Cleo's House.
Charlotte, using her powers, holds Cleo and Emma in the boiler room and purposely transforms both of them into mermaids.
Charlotte creating a frozen water ball in the shape of Cleo Sertori's face and throwing it into her swimming pool.
She intentionally gets moonstruck to lures the other mermaids to Mako Island.
Gallery
Ad blocker interference detected!
Wikia is a free-to-use site that makes money from advertising. We have a modified experience for viewers using ad blockers

Wikia is not accessible if you've made further modifications. Remove the custom ad blocker rule(s) and the page will load as expected.